Sports Dentistry & Custom Mouthguards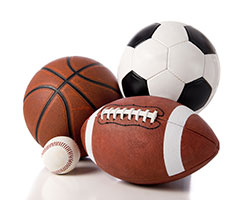 Dr. Pham provides high quality custom mouth guards to patients that participate in leisure sports as well as professional heavy contact sports. Guards prevent dental trauma, concussion, and some facial lacerations.
Most organized sports now require the use of a mouthguard to participate. Dr. Pham recommends patients wear a custom guard as it will stay in place and prevent injury better than a stock guard. Guards should be worn during both practices and competition. The American Dental Association recommends that guards be worn during all contact sports.

The most frequent type of injury to the face during sports are dental injuries and the majority of these are preventable using mouth guards.
A fractured tooth costs much more than having a dentist professionally make a mouthguard.
The cost to extract, place and restore a tooth with a dental implant costs upwards of $5500.
Mouthguards should be worn at all times during competition; in practice as well as in games.
Concussion Prevention
The technology of a custom fabricated guard helps prevent concussions by inhibiting the jaw from crushing into the skull. The guard absorbs the pressure and shock waves that would otherwise be sent to the brain. Depending on what type of guard you choose, you may also be able to select a custom graphic on the front of the guard to display your school pride. Turnaround time for fabrication is approximately two weeks.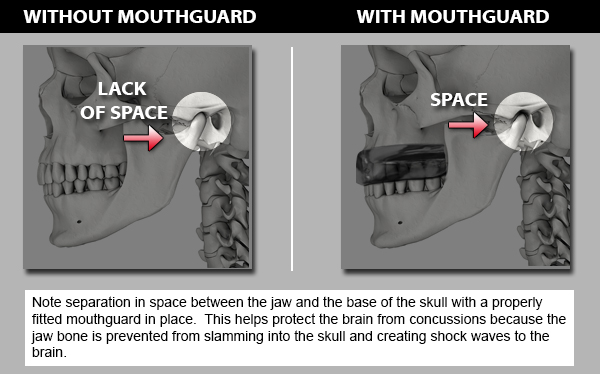 Many athletes do not wear guards during their activities simply because they are not comfortable and do not fit well. Custom guards will allow athletes to function normally throughout their activity.
Sport Mouthguards Work
Dr. Pham creates custom mouthguards for the following sports:
Football
Basketball
Soccer
Hockey
Boxing
Wrestling
Volleyball
Bicycling
Baseball
Softball
and others...
The American Dental Association estimates that the use of mouthguards protects high school and collegiate football players from 200,000 injuries each year.
Wearing a sports mouthguard in conjunction with other protective equipment during activities is the best thing an athlete can do to protect themselves from the risk of dental injury as well as concussion. A custom fabricated guard will stay in place better to protect teeth from injury or any subsequent trauma. Over the counter guards simply cannot do this, because they are made to fit varying sizes and shapes of mouths rather than fitting snugly into place. Sport guards were originally worn by professional boxers in the early 1900's, but have since become a standard protective equipment piece.
To get fitted for your custom sport mouthguard, contact us today.