Clear Correct™ Removable Orthodontics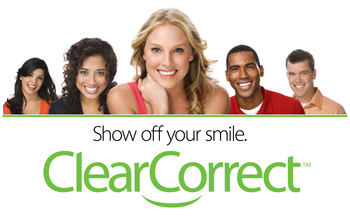 Looking for an alternative to braces?
With ClearCorrect, Dr. Pham can straighten your teeth using a series of clear, custom, removable aligners. Each aligner moves your teeth just a little bit at a time until you eventually get straight teeth.
ClearCorrect is the clear and simple choice. No wires. No brackets. Just clear, convenient comfort—every reason to smile.
Why ClearCorrect?
You deserve a smile you can be proud of and ClearCorrect can make it happen. The clear aligners are comfortable, removable and best of all, nearly invisible. Most people won't even notice you're wearing them. Since you can easily remove the aligners to eat, you don't have to change your diet like you might with braces. You can show off your smile with almost no impact on your daily life. Some severe cases of misalignment do require metal braces, but most patients can be treated just as effectively with clear aligners. The cost and length of treatment are generally comparable.
Your Custom Treatment Plan
Dr. Pham will take impressions, x-rays and photos of your teeth, then send them to Clear Correct with instructions for the tooth movements you need to achieve your ideal smile. They will create a 3D model of your mouth and then a series of clear plastic aligners custom-fitted to your teeth. Each aligner will apply targeted pressure to the teeth selected by Dr. Pham, slowly moving them into alignment. Every six weeks or so, Dr. Pham will check on your progress and give you your next two sets of aligners. Unlike other clear aligner companies, Clear Correct manufactures your aligners in phases, so we can request changes at any time. Treatment usually takes 6–18 months, but you'll start to see results right away.
Progress Wearing Your Aligners
You'll wear your aligners all the time, except while eating and drinking or during daily tooth care such as brushing and flossing. Your ClearCorrect aligners are so clear they are barely noticeable so they won't have an impact on your day to day life. Aligner by aligner, you'll be able to see the difference as your teeth slowly adjust and align to your target smile. You'll visit us periodically for checkups to see how you're progressing until you eventually have the straight smile you've always wanted.
The first step is a consultation with Dr. Pham to see if you are a candidate for Clear Correct™.