Meridien Dental Experience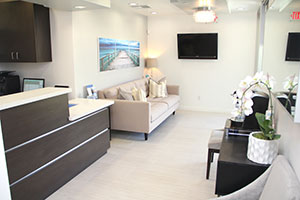 Your experience at Meridien Dental begins the moment you step into the well-designed but homey, spa-like environment reflective of the Santa Monica Beach area in which it is located. Your comfort is the top priority of Dr. Pham and his friendly staff. In the front office, you will have access to beverages such as coffee, tea, and water as well as to the internet, TV, movies, Netflix, and games. While in the dental chair, therapeutic pillows, blankets, and warm towels are provided to further enhance your comfort. For those who like to be entertained or distracted during a dental procedure, ROKU allows you to watch a movie, TV shows, and more or listen to music.
We're All Digital
Our office is all-digital, with digital Xrays and panoramic machine. Digital Xrays are taken with very low radiation. They require less time to process than traditional Xrays, use no harmful chemicals, and can be digitally enhanced or enlarged to assist Dr. Pham in determining the correct treatment planning for your situation.
Intraoral Camera's Keep You Informed
An intraoral camera is used, which allows you to better understand what is happening in your mouth.  A computer screen can show close-in imagery of your mouth and digital Xrays. Through this, you can see exactly what your dental problems are as Dr. Pham explains the treatment options that will address them. This allows you to become more knowledgeable and responsible for your oral health and lets you participate in the decision-making process.
Computerized charting is an efficient means of tracking your dental history. This aids in treatment planning and coordination with other dentists. High-quality visual aids allow you to view changes in your dental health. Instead of relying on general charts and models, Dr. Pham can explain the diagnosis and treatment options using specific and detailed information.
Laser Dentistry is Less Invasive and More Comortable
A diode laser is used to perform many dental procedures, which is less invasive, causes less discomfort, and is more effective in its results. This type of laser can be used to treat mouth sores, in minor gum procedures, TMJ treatment, uneven gum lines, frenectomy, and used to promote healing.
Finally, besides the latest and best in technology and professional equipment, the Meridien Experience is based on the caring, compassionate, and gentle service you will always receive from Dr. Pham. He believes in dental services that result in functioning teeth that make you look your best and feel your best. To that end, his array of treatment options are designed for both function and attractiveness, from dental implants to lumineers and veneers, invisalign, teeth whitening, crowns and bridges, and more. The Meridien Experience encompasses the best in dental service for the whole family.