Meet Dr. Pham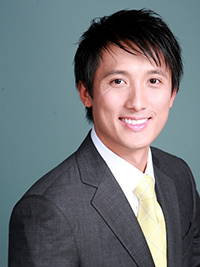 Dr. Pham and his family came to the United States as refugees from Vietnam after the Vietnam War. The family moved to northern California from Michigan when Dr. Pham was a child of one. English was a second language for him as he grew up in the Bay Area. This didn't stop him, however, as he went on to undergraduate school at UC Davis where he received a Bachelor of Science degree in Biology with emphasis in Physiology. From there, Dr. Pham attended dental school at UCLA, where he graduated with his D.D.S. degree in 2005. Since then, Dr. Pham has continued to advance his dental education with additional training courses, such as the UCLA Advanced Implant Course.
Prior to opening his own dental office, Dr. Pham worked in other offices. His Santa Monica dental office is the realization of a dream which he is excited to offer to new and old clients. He provides a variety of dental services for the entire family, from kids to their parents and grandparents. He and his friendly staff make it a point to go out of their way to be helpful to everyone they care for in the homey, spa-like environment they have created.
Dr. Pham is a member of the local American Dental Association, the California Dental Association, and the National American Dental Association. He is also a member of the American Academy of Cosmetic Dentistry, the American Academy of Implant Dentistry, and the Academy of Osseointegration, which focuses on advancing the science, practice, and ethics of implant dentistry. Through these professional organizations and through other avenues, Dr. Pham constantly works to stay up-to-date with the latest advances in dental knowledge and technology while providing the latest and best in dental equipment and services.
Dr. Pham and his wife Audrey have two children. Ethan, aged 3 has just started preschool. Cleo, just under a year old, recently got her first two lower teeth, an important event in any family. Besides working at his dental office, Dr. Pham loves snowboarding in the local mountains and playing golf in our beautiful southern California sunshine.